Knowise Learning Academy started in 2008 and focuses on improving the financial services landscape through instructor led workshops. Our workshops focus on using practical scenarios to explain concepts in the simplest way possible. We believe in using our potential to create a long-term impact on our clients and not just provide a short-term solution.
Every occupation requires not just technical know-how but also certain character traits that help individuals contribute better to the organization. Hence, we also provide behavioral workshops and close the loop.
We have trained more than 1,50,000 people so far. Our financial workshops are focused towards Banks, Asset Management Companies, Insurance companies, Distribution houses, BFSI teams of IT companies, Knowledge Process Outsourcing Companies (KPOs), Educational Institutions etc. We also work with individuals who are looking at enhancing their career prospects through Certified Financial Planning course, NISM certification courses, JAIIB & CAIIB etc.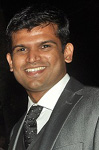 Karthick CS
Managing Director
Karthick is an MBA in finance and a Certified Financial Planner. He is one of the co-founders of Knowise Learning Academy and has over 15 years of work experience in companies like ING Investment Management, ABN AMRO Bank and Sundaram Finance. He has conducted various workshops on Wealth Management, Capital markets, Asset Management, Macro-economic indicators, financial planning workshops, NISM – MFD and NISM – CPE. He has a track record of being one of the most admired trainers. Having extensive experience in financial services sector, he enriches his sessions with real life scenarios. He is an avid traveler, a trekking enthusiast and passionate about reading. He is also an empanelled trainer with National Institute of Securities Markets (a SEBI initiative) for conducting their refresher programs on Mutual Funds

Namrata Arora
Director, Business Development
Namrata is an MBA from National University of Singapore with over 12 years of experience in Financial Services Industry on the Assets side and the liability side. Namrata has been part of training initiatives across organizations. She has worked with organizations like ING and John Deere Financial where she has handled responsibilities ranging from Business development to setting up the complete marketing function for the organization. She handles Business Development for Knowise where she is responsible for all the strategic initiatives taken by the company. Namrata is an avid traveller and enjoys reading in her free time.

Rishab Lunia
Director, strategy and Learning
Rishab is an MBA in finance and has over 14 years of experience in the financial services industry. Prior to his association with Knowise as a co-founder, Rishab has worked with Optimix – a division of ING Investment Management and DBS Cholamandalam Asset Management Ltd. He has led trainings on Debt Markets, Derivatives, Multi Manager Mutual funds, Financial Planning etc. at various banks and financial services companies. He is known to be a specialist in Asset Management and has an ability to train with simplicity and clarity. He is also an empanelled trainer with National Institute of Securities Markets (a SEBI initiative) for conducting Continuing Professional Education (CPE) programs on Mutual Funds. His favorite subjects have been financial management, Financial Markets and Technical Analysis.