Over the last few years, many investors have been misguided or cheated in the process of investing. In order to protect the investors and raise the awareness levels, SEBI has come out with Investor Awareness Programs across India and various districts have been adopted for conducting the education programs in the first phase. 
We, at Knowise, have been conducting these Investor Awareness Programs since 2014. Our focus is to reach out to as many new mutual fund investors as possible. We have been successful in reaching out to more than 100,000 investors so far through these programs. Of the total number of people who have attended these programs, ~40% of the participants have shown interest in improving their financial discipline and starting their investments the right way.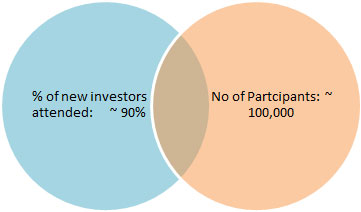 Program Outline:
It is very important establish the purpose for investing. We start our program with why savings are important and help the participants in setting the objectives for investing their funds. The various investment options are the by-products of the goal set by the investors.
• Need for financial goals and financial discipline  
• Impact of Inflation 
• Investment Options (Asset Class) for Individuals 
• Importance of Equity and introduction to Mutual funds
• Power of compounding & SIPs as an investment vehicle
• Risk mitigation  
• Do's and Don'ts while investing
Target audience:
We have been engaging with various types of target audience for conducting the IAPs. Because of the quality of the content and program delivery, we have established continuous engagement opportunity with few of the clients. The programs are being delivered across different departments and locations of the same firm in order to cover sizable number of the work force of these companies.
We also have been conducting IAPs during the induction program of various companies as a continuous engagement effort.
We have conducted these programs in corporates, start-ups, hotels, schools, Colleges, NGOs, Government offices etc.